Welcome to our website.
Here you will find information about the village, news about local events and links to local attractions. We hope that you find what you want. If not, please contact one of the Parish Councillors listed in the contact page.
Click on a picture to see a larger version. Please note that this site is not responsible for changes to any events listed.
NEWS

West Acre Friends Group

The next meeting of this group will be held on Wednesday 2nd May 2018. If you would like to meet others for a chat, or to play games, come and join them in the village hall at 2pm (finish at 4pm). Refreshments provided. Cost £1 per session.
For more details contact Louisa on 01760 755082.
NEWS
Sid for West Acre
West Acre Parish Council recently heard from Norfolk County Council that its application for grant funding under the Parish Partnership Scheme had been approved. The grant will be used to purchase a speed indicator device. The decision to purchase the device, similar to the one illustrated was made following complaints from residents about speeding vehicles in the village.

NEWS

West Acre News - February 2018 issue

The latest edition of the Parish newsletter is available to view. Clicking on one of the pages below will open a larger version in a new window.
If you would like to contribute please contact Ralph via email at westacreparish@gmail.com

Image: The Morning of the Resurrection, by Sir Edward Coley Burne-Jones, 1886
NEWS
Services at All Saints Church, West Acre

Holy Communion, Sunday 20 May at 9am. Please contact Henry on (01760) 755254 for further details. The annual Church Meeting will take place in the village hall on Tuesday 24th April at 6pm. Everyone welcome.

NEWS

Brewery gets green light

In March 2018 Duration Brewing was awarded a double grant for Rural Development from DEFRA under the LEADER programme. Both Westacre Estate and the brewery submitted successful applications for farm diversification and job creation respectively. Under the grant Duration has committed to creating twelve jobs over a 3-year period from the anticipated opening date in early 2019, and expects to fill five positions in the first year.
The Norfolk Council Councils business development team will showcase the project.
The development is progressing to schedule with regular design team meetings taking place at West Acre. The design team has been appointed to deliver the project on behalf of the Estate and the brewery who are working in partnership. Work is likely to start in June with the breweries first in-house production taking place at the end of 2018 or in early 2019. Phase two – to build the visitor centre is likely to commence by mid-to-late 2020.
Local historic architect Ruth Brennan is head of the design team. Environmental Engineering Partnership has been appointed as the engineers. EEP specialise in mechanical, electrical, public health and environmental engineering and worked with the estate on the High House development for Antony Gormley. Ruth Brennan was appointed by the Estate at planning level and will see the project through to completion. She is currently working on the conditions package to make sure everything is in hand as main liaise with the archaeologist, etymologist and all the governing bodies associated with the planning conditions.
Duration Brewing is planning to update the local community as the works commence via a leaflet drop to local residents and will attend the village fete to update the wider community, making their plans available to view and their product available to sample. Duration founders Bates and Miranda will be present at the fete and will also attend a future meeting of the Parish Council to answer any concerns residents may have.
Duration wish to remain open and communicative about their plans, understanding that a development of this size will bring with it inevitable disruption. The founders have every intention of integrating fully into the local community, and are working to be sensitive to the needs of their neighbours. They very much hope to the project will be accepted as one that brings new opportunities to West Acre.
Duration hope to form a positive relationship between themselves and the residents of West Acre.
The company have a website www.durationbeer.com and invite all interested to sign up to their newsletter for updates – a link to sign up can be found on the footer of their website.

NEWS

Faster broadband creeps closer

What seemed like an impossible dream only a few months ago is closer to being realised following the installation of an Openreach fibre broadband cabinet at the junction of River Road and Church Green.
NEWS

First phase of bulb planting completed

A group of volunteer dibbers gathered on a lovely frosty morning on Sunday 26 November to plant a variety of Spring flowering bulbs at three sites in West Acre. Many thanks to those who took part.

Additional planting is planned to take place when further funds become available. See future issues of the West Acre News for details.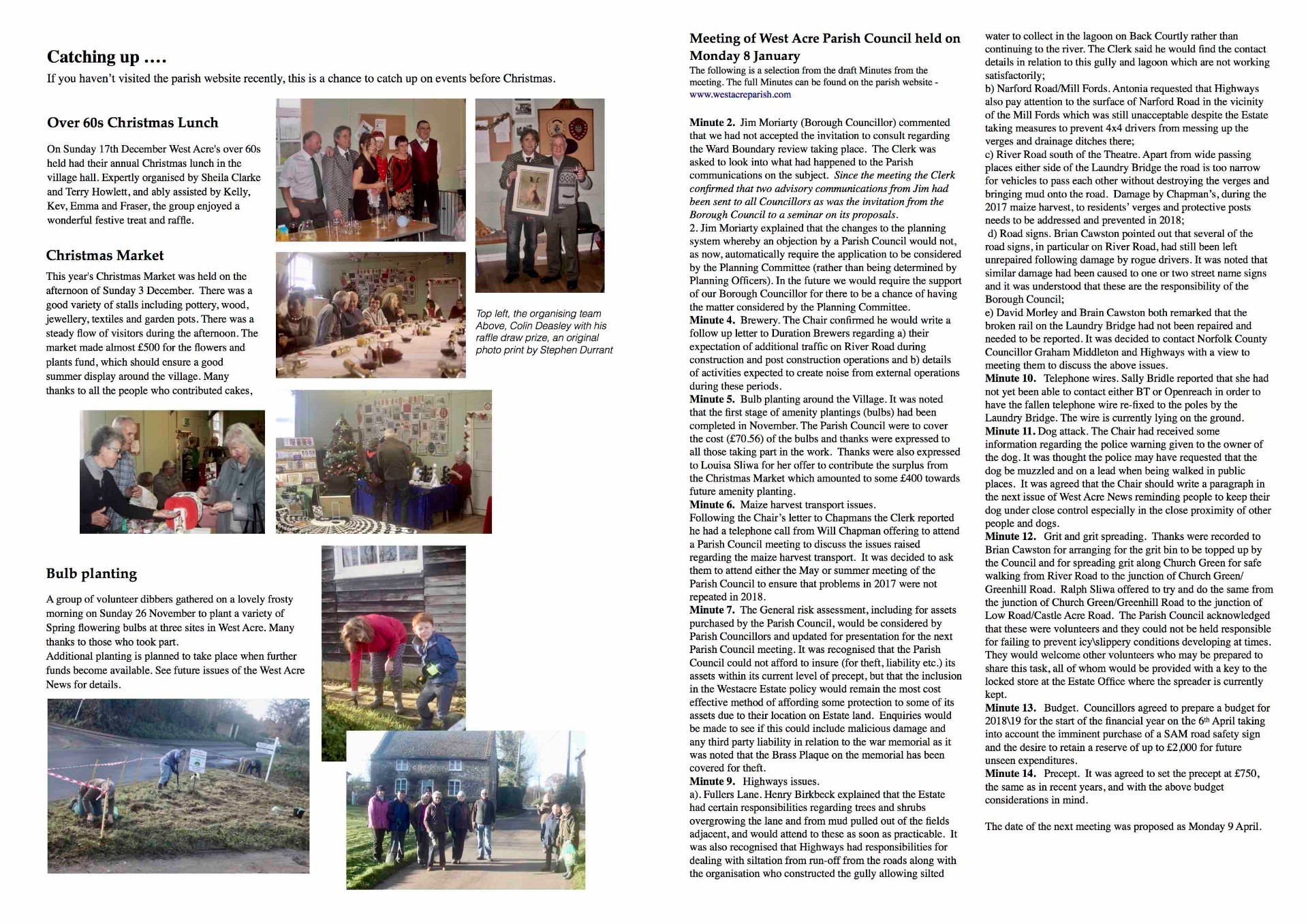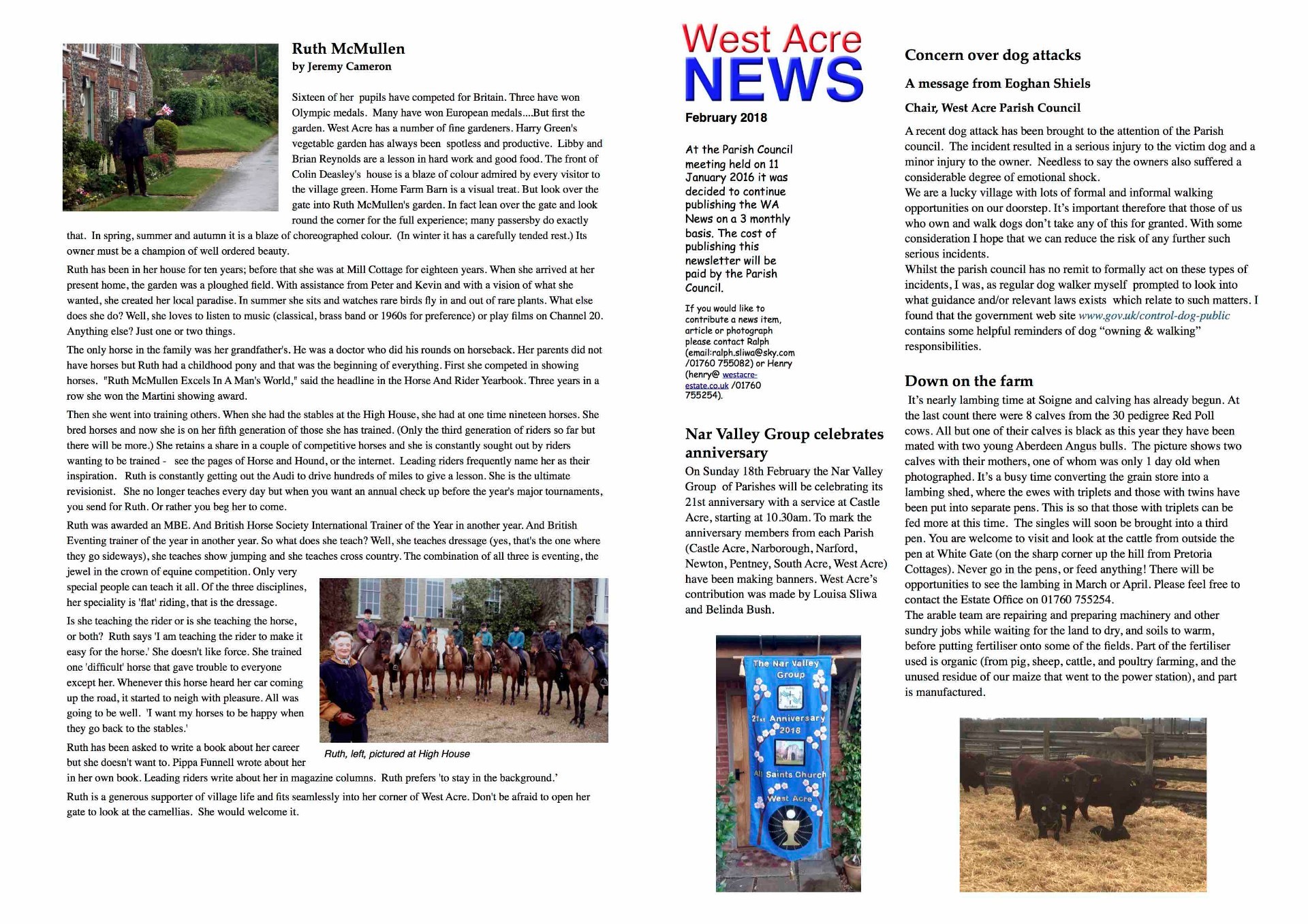 NEWS

Folk in a Field Festival 2018

The popular folk festival returns for three days in July. Click on the image to view a larger version or head to

NEWS

Open Farm Sunday - Soigne Farm
10 June 2018 11am-4pm

Bring the family along to the farming industry's annual open day. It's a fantastic chance to discover real farming at first-hand and see how food is produced. Meet the animals, see the machinery, explore the wildlife and learn from the experts. Take a tractor/trailer ride around the farm, food available and much more. Free admission.

Soigne Farm, Tumbleyhill Road, West Acre, PE32 1UH